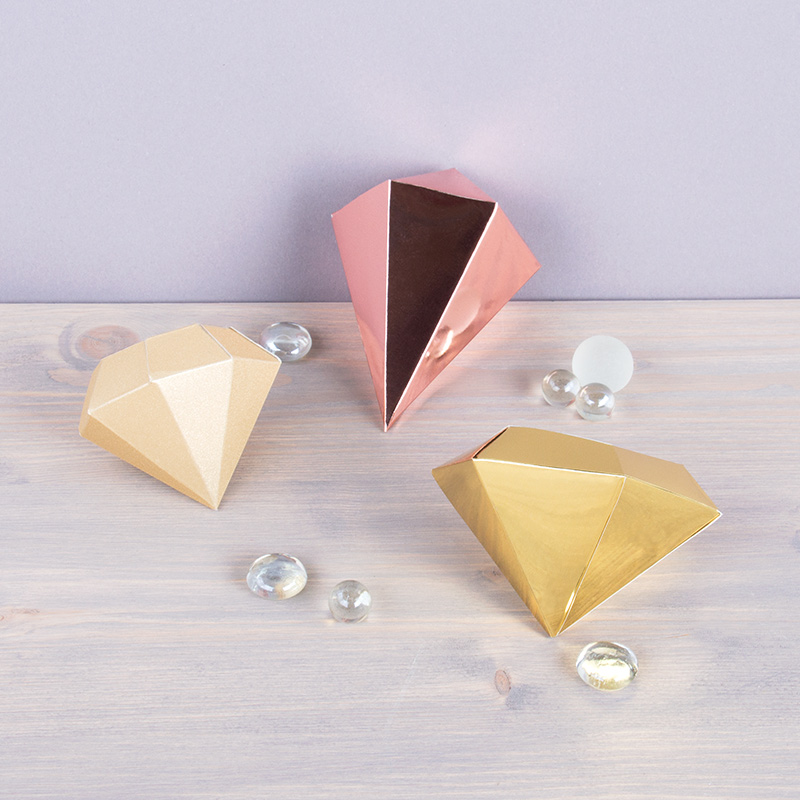 Paper diamonds
Difficulty
Instructions in 5 steps
To hang up and decorate - The diamonds made of metal effect paper are outstanding.
Besides the articles listed below, you also need: Pencil
And this is how it works:
1
Step 1
Copy out the template of the desired diamond to the rear side of the desired scrapbooking paper with metallic effect by using the transfer paper, a pencil and a ruler. It is best to fix the transfer paper with some sellotape.
The cutting pattern can be found in the PDF version of the Craft Idea. Just download it.
2
Step 2
Cut out the copied box along the solid line by means of the precision craft cutter or scissors.
3
Step 3
Trace the dashed lines by means of the ruler and the bone folder. Now you can fold the diamond.
4
Step 4
Stick the diamond together at the flaps with the extra strong double-sided adhesive tape. Finally, decorate the diamond as you wish.
5
TIP
The diamonds look also good when they are hung up. Moreover, they can be further decorated with beads and tassels.