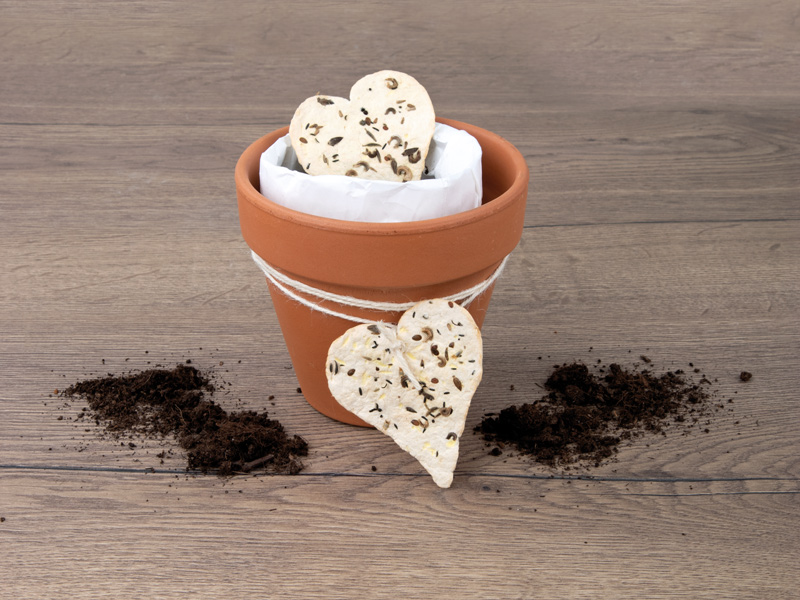 Clay pot with seed heart
Difficulty
Instructions in 9 steps
An original gift idea. Seeds are incorporated in the self-made paper heart which, with soil and water, become a paradise for bees and other insects.
Besides the articles listed below, you also need: suitable vessel for the preparation of the pulp, clay pot, potting soil
And this is how it works:
1
Step 1
Basic instructions for papermaking: Fibre pulp mixing: Tear paper (pulp sheets) into pieces, pour hot water over them and leave to soak for about 30 minutes. Beat the paper pulp with a blender or hand blender (add hot water if necessary if the pulp is too firm).
2
Step 2
You can also stir in paint, e.g. All-purpose paint, soap dye or natural colour pigments such as turmeric powder.
3
Step 3
Dipping: Put the heart-shaped cookie cutter on a cloth, e.g. a kitchen towel, and scoop about three spoonfuls of the pulp into the heart by means of a tablespoon.
4
Step 4
Sprinkle the seed mixture into the fibre pulp.
5
Step 5
Using the sponge stamp from above, carefully press the fibre pulp into the heart-shaped cookie cutter and at the same time absorb the excess liquid.
6
Step 6
Lifting: Carefully lift the heart-shaped cookie cutter off the scooped heart.
7
Step 7
Drying: Carefully peel off the scooped, still slightly wet heart of the couching material and hang it on a clothesline for the final drying.
8
Step 8
Decorating: You can decorate e.g. a clay pot with the dry heart by punching a hole in the heart by means of the punch pliers and attaching it to the clay pot with the jute cord.
9
Tip:
If you insert the heart in the potting soil and water it, you will soon have your own little bee meadow.