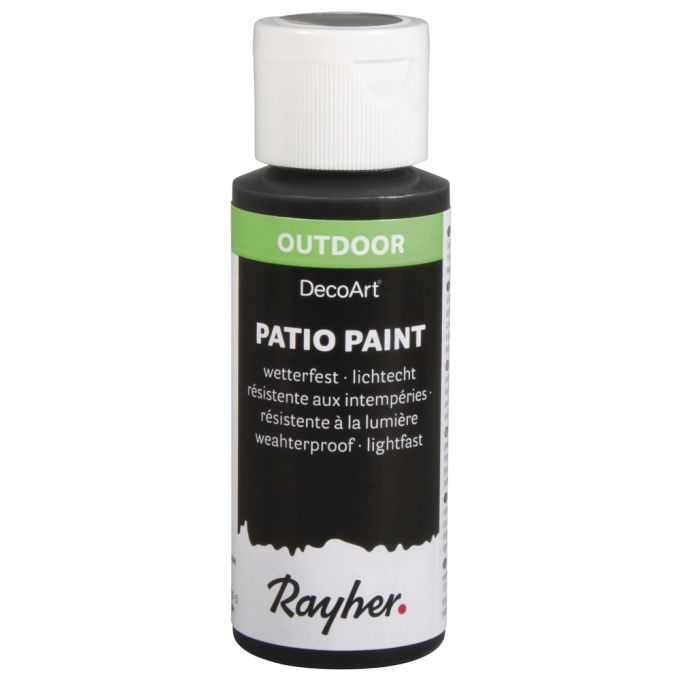 Free shipping from €0.00
Klimaneutraler Versand mit DHL GoGreen
Sicherer Kauf auf Rechnung
30 Tage Geld-Zurück-Garantie
Kostenlose Abholung beim Händler
Kostenlose Rückgabe
Patio Paint
Patio Paint turns ordinary terracotta pots into works of art. And weather/sun can't harm them, because Patio Paint is extremely weather-, light- and abrasion-resistant. The paint is water-based and ideal for embellishing your home and garden. An additional protective varnish is not necessary. Patio Paint is available in many beautiful colours and in paint cans of 59 ml and 236 ml.

The white colour shade (102) is the ideal colour for priming your object. Any other colour application will look brighter and more colourful on this white background. The white colour shade is also ideal for mixing slightly lighter shades.

The colourless paint (colour number 702) can do much more:
Patio Paint colourless paint is a very special product and can be used in different ways:
1. For the priming to maintain the original colour of the substrate.
2. For painting objects painted with Patio Paint to increase their gloss.
3. This colourless paint is also ideal as an adhesive for the napkin technique. Especially if you decorate outdoor objects by means of this technique.