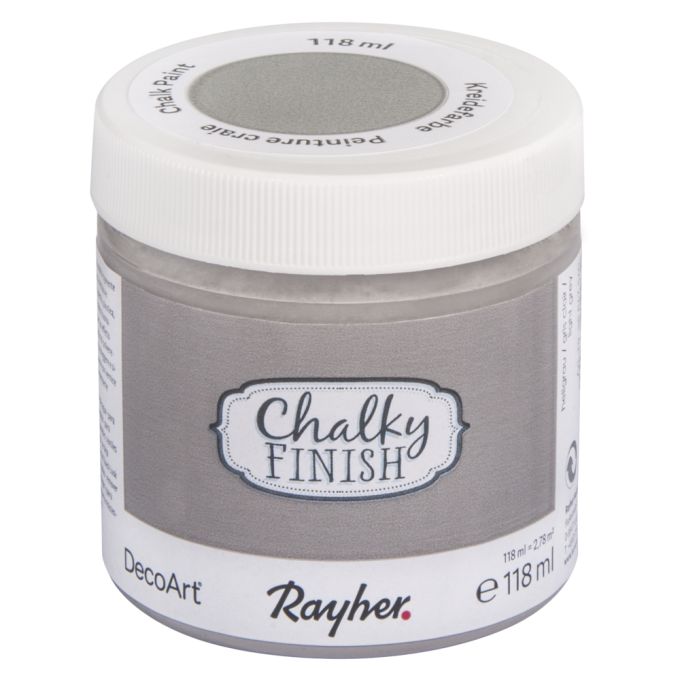 Free shipping from €0.00
Klimaneutraler Versand mit DHL GoGreen
Sicherer Kauf auf Rechnung
30 Tage Geld-Zurück-Garantie
Kostenlose Abholung beim Händler
Kostenlose Rückgabe
With little effort, old and new objects such as wood, metal, paper-mâché items, plastics and walls can be transformed in no time at all. The water-based paint is easy to spread and has a high level of colour intensity. The Chalky paints are simply unique for the interior in the trendy country house style or also for the exterior after a permanent sealing. The "supplements" matching this paint can be used in an efficient manner: • Chalky Finish Blocker – a used natural wood surface is ideally sealed with the blocker and prepared for the new paint coat. The Blocker dries transparently and protects the paint coat. • Chalky Finish Cream Wax for Interior - the wax gives a strong protection and is intended for everyday indoor uses. Direct mixing with the Chalky paint is also possible. The wax provides different effects in dark brown and transparent. The effect is different depending on the cream wax used, so great patina looks succeed (natural or artificial ageing surfaces). • Chalky Finish Clear Coat for Exterior - the paint application is protected by the clear coat and is therefore weatherproof. The different varnishes can also be used with other acrylic paints. • Transfer Medium - the medium serves as an aid for transferring paper prints (laser printers) to a wide variety of substrates. • Chalky Finish Crackling Medium - the medium gives the desired surface a crackle look and it looks thus very antique.