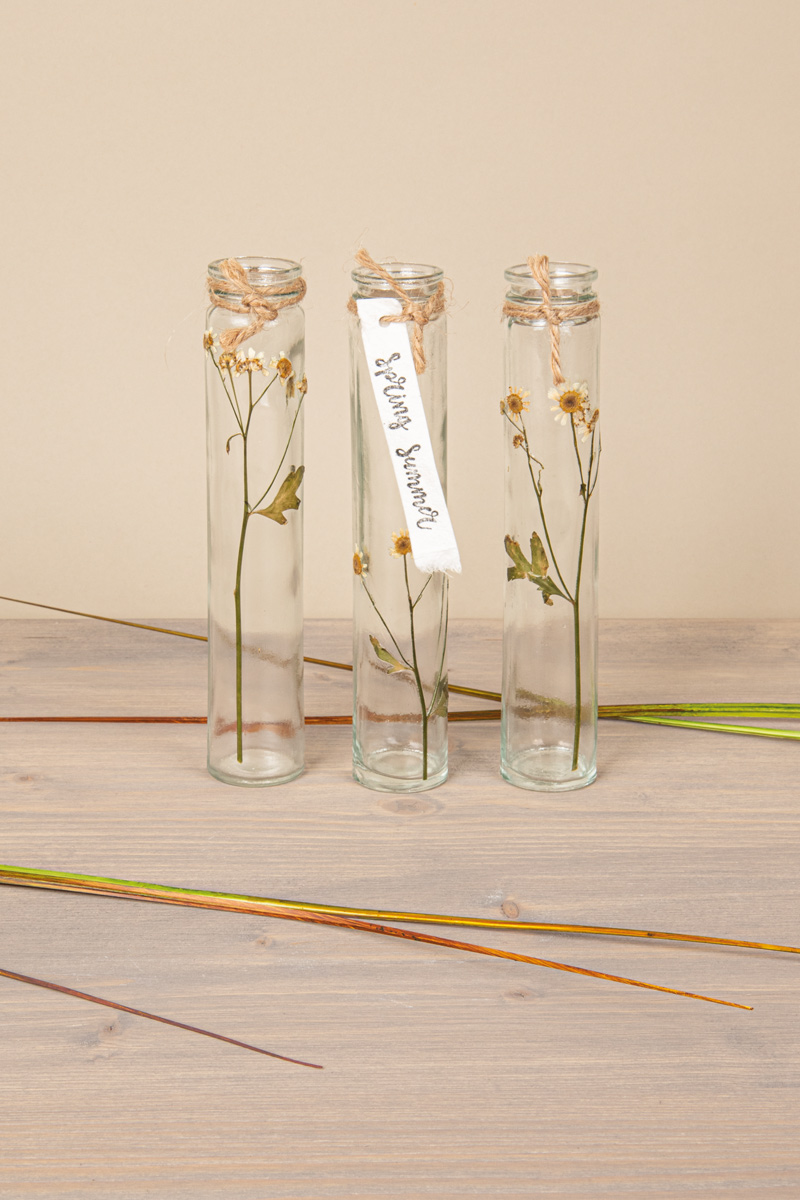 Vase trio with pressed flowers
Difficulty
Instructions in 13 steps
Make the summer last by filling the glass vial trio with pressed flowers and blossoms.
Besides the articles listed below, you also need: Flowers
And this is how it works:
1
Step 1
Make a sheet of handmade paper according to the basic instructions.
2
Step 2
Stamp the paper with the motifs of the Clear stamps "Bienensommer" and cut them into narrow strips. Punch a hole at the top edge so that you can attach the paper tag to the glass vase later.
3
Step 3
Spray the dried flowers with a little spray adhesive (spray on the back and let it air-dry for a little while), affix them onto the glass vases and let them dry for a little while.
4
Step 4
Carefully coat the entire glass vase with the decoupage glue & varnish, including the flowers. After about an hour, the second coat of varnish can be applied.
5
Step 5
Thread the paper tags onto the jute cord and attach it to the top of the vase.
6
BASIC INSTRUCTIONS
for papermaking
7
Step 1
Fibre pulp mixing: tear paper (cellulose pulp sheets, egg cartons, newspaper, etc.) into pieces, pour hot water over them and let them soak for about 30 minutes. Beat the paper pulp with a blender or hand blender (add hot water if necessary if the pulp is too firm).
8
Step 2
Preparing for dipping: fill a plastic tub/vat (slightly larger than the mould & deckle) with lukewarm water and add the paper pulp by the spoonful, stir it well. You can also add colour (e.g. soap dye), fragrance oil, flower petals or seeds to the paper pulp.
9
Step 3
Dipping: dip the screen stretched across frame into the vat of pulp, place it horizontally under water and lift it up also horizontally out of the mixture.
10
Step 4
Dripping-off: let the frame drain well out by dabbing the liquid from behind with a sponge.
11
Step 5
Transferring the wet sheet: put the window screen frame on a dishcloth or a towel, lift up the upper frame and turn the wet sheet of paper upside down onto a dry cloth.
12
Step 6
Drying: place a dry sheet of fabric on top of the sheet of paper and take a paper towel to press it in order to remove some of the water. Carefully peel off the still slightly wet paper of the couching material and hang it on a clothesline for the final drying.
13
Tip
If you skip the upper window screen frame when dipping, an attractive jagged paper edge is created.